Larry Gagner was a Florida Gator All-American guard and a Steeler 2nd round pick in 1966. He started four years at left guard and later added a year with the Chiefs, plus two more in the World Football League. Larry was kind enough to take the time to speak to FameBooking.com about his football career and what he has been up to recently.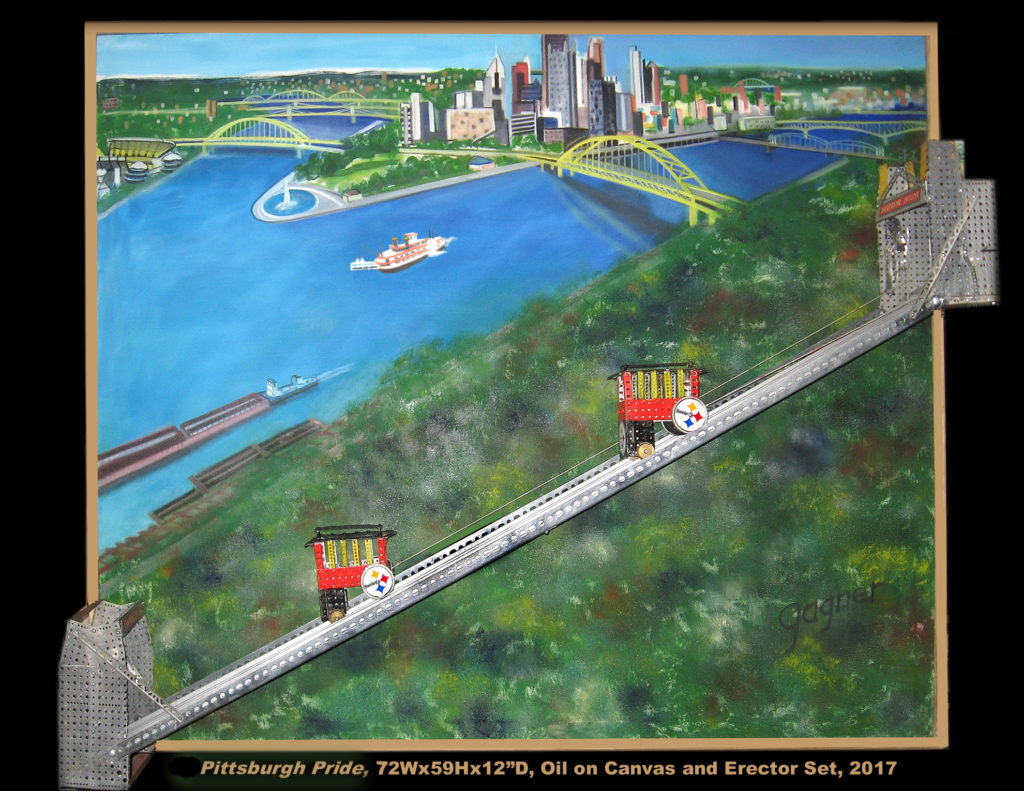 You were a standout high school football player at Seabreeze High School (Daytona Beach) and ended up attending and playing for the University of Florida. Did you always dream of playing at the University of Florida?
Not really, but my sister, Lori, attended Florida for two years so she kind of got me interested. I dreamed of playing pro baseball and had two offers (with 5,000 bonuses!) in my H.S. senior year. I choose neither since I wanted to go to college but scholarships in non-football related sports were rare.
Were you expecting to be selected in both the AFL and NFL drafts (if so what round/team were you thinking it would be)?
I knew I was to be a "blue chip" draft choice since I made the All-American Team. Dan Rooney himself recruited me. The Steelers' 2nd and the Dolphins 5th round draft selections weren't a surprise to me.
Where and who were you with on draft day?
There wasn't any draft day party, but I do remember my agent, Bill O'Neal, negotiating between the Steelers and the Dolphins at the Roosevelt Hotel in New Orleans after the Gators lost to Missouri in the Sugar Bowl.
When and where was the first time you were asked for an autograph?
I'm guessing my first autograph signings came as a rookie for the Steelers in 1966.
What was your favorite moment of your NFL career?
Two moments in my NFL career are worth mentioning–at least to me anyway. The first was a Ping-Pong square-off, best of five games, between the N.Y. Giant's kicker Pete Gogolak and myself, contested in front of the entire Giant football team, plus coaching staff, at their Hofstra University training camp in 1971. (The result is revealed in my book: Dancing in the Shadows).
The second "highlight" was my "comeback performance" on Monday Night Football (Sept. 25, 1971) that had (so I was told later) Howard Cosell singing my praises as to my stellar playing after my sitting out a year to recover from a broken, dislocated hip joint. Early in the game, QB Len Dawson called a couple of sweep plays. They worked so well that sweeps became the play of choice for the rest of the game. Never in my athletic experiences has my tongue hung further out–seeking to suck more air in. But it was well worth it to receive praises from people I haven't heard from in years!
You played in the World Football League (WFL) as well, what was the main difference between that league and the NFL?
There was wonderful team cohesion on the Jacksonville franchise of the WFL. I certainly enjoyed playing more in the WFL. Although, admittedly, the NFL was probably more competitive.
After your retirement from football, you turned your focus to art in various mediums. Did you ever think growing up that one day you would be an artist?
In my youth, I concentrated on athletics and girls (not necessarily in that order). Doing art, which usually consisted of drawing portraits of my favorite girlfriends, was an infrequent sideline. Not until my Sophomore year at Florida did I realize that painting had the potential to become my lifetime passion.
Where do typically gain inspiration for your artwork?
My paintings (and computer generated images) reflect and address a good deal of activist art. The more I age, the more concern I harbor for future generations. My SignsSublime.com visual ministry changes common road signs into Christian prompts to renew and sustain our faith in a world gone secular.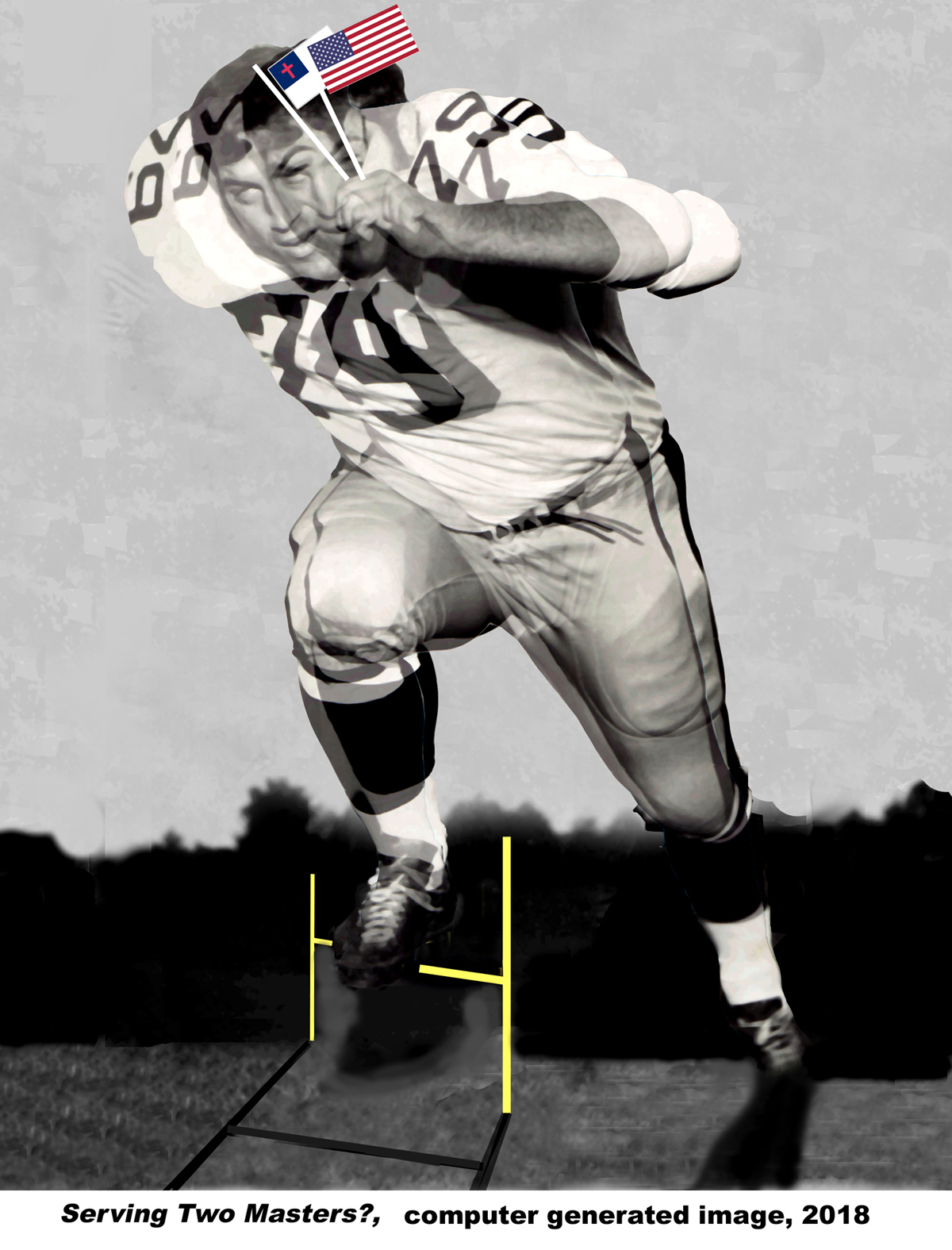 Where can we view your works?
My artworks: LarryGagner.com and CenterStageGlass.com
My Christian ministries: SignsSublime.com and RighteousRelays.com
What's the harder career - being a professional football player or professional artist?
To date, I've made much more money playing football than selling art. But football wasn't my passion; art is. Money isn't everything, especially if by making more (as a professional footballer) it jeopardizes your health. Luckily, no CTE in me - at least to date!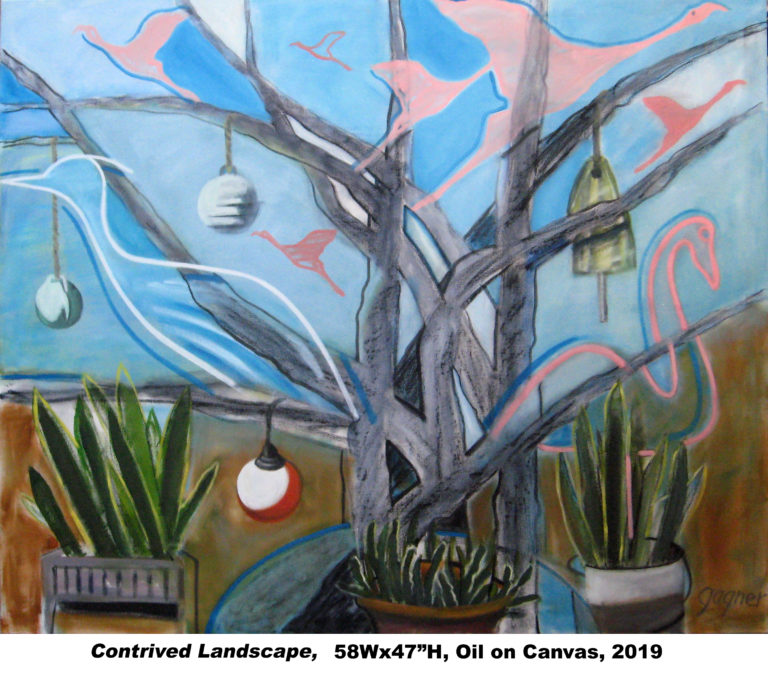 What's the best piece of advice you've ever received?
From my H.S. senior English teacher, Mrs. Kemp: "Your grade of C may be more praiseworthy than someone else's A." I interpreted that to mean, an individual's success depends on how far you've progressed, taking into account the abilities that God has or hasn't blessed you with initially.
What's your favorite piece of advice to give?
John 3:16
---