Allee Willis is a songwriter, artist, set designer, multimedia artist, writer, collector, and director. Willis has won two Grammy Awards from three nominations. She is a member of the Songwriters Hall of Fame. FameBooking appreciates her taking the time to share some of her life stories, advice, and perspectives.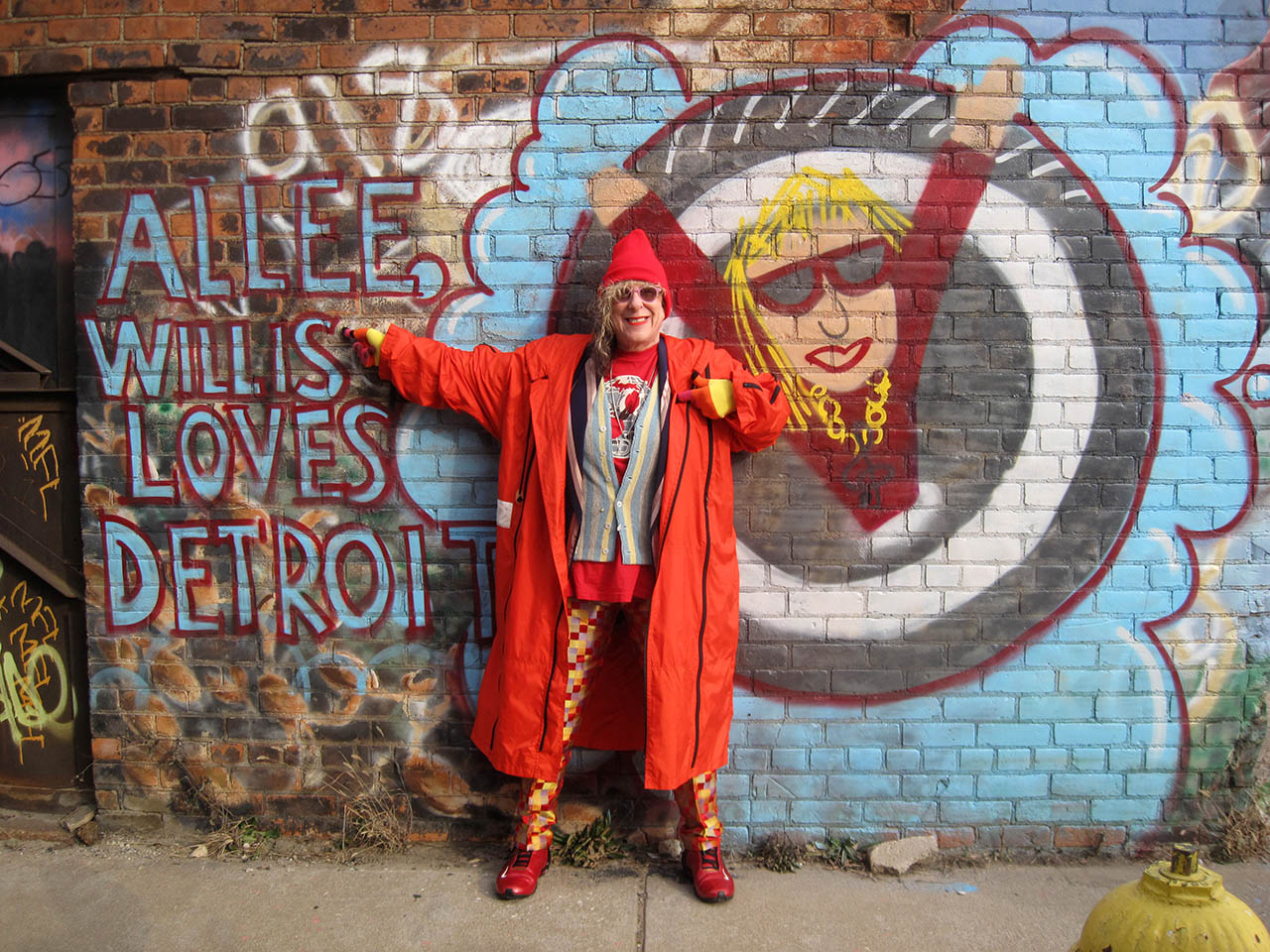 Your story is astonishing because you don't play or read music, yet you've written world-famous songs for TV, Broadway, and a slew of musical stars. Is there anyone in the world like you in that regard?
I'm not aware of anyone like me in the world. There are certainly people who write music and don't know how to play, and there are certainly artists who work in a variety of mediums. But my music is very much integrated not only with the zillion other fields I work in like art, video, set design, theatre, and party-throwing, but also integrated with my vast 1950's – 1970's vintage Pop Culture Atomic, Soul, and Kitsch collections. I treat everything as a giant canvas, from my body to my front lawn to my car, hair, house, etc. It's all one gigantic living art form of me.
What was your big break in show biz?
Bonnie Raitt heard my one and only album that came out in 1974 and asked me to write a song for her. That became my first recorded song by someone other than myself. A few years later, Patti LaBelle became the first artist to regularly cut my songs. That led almost directly to my career exploding when Maurice White asked to write the entire next Earth Wind & Fire album with him. Our very first song was "September." The beginning of that year, 1978, I was getting food stamps and medical assistance. By the end of the year I had sold 10 million records, though still getting food stamps and medical assistance as the money was so delayed.
You were inducted into the Songwriters Hall of Fame in 2018, have 29 gold and platinum albums, 6 singles that went gold or platinum ("September," "Boogie Wonderland," "Neutron Dance," "I'll Be There For You" [the Friends theme song], "What Have I Done To Deserve This," "Stir It Up," and "Lead Me On"), two Webbys and a Grammy. Which is your favorite? Why?
The musical I wrote, The Color Purple, won both a Tony and Grammy that went to the producer. My personal Grammy was for the soundtrack to Beverly Hills Cop, with my songs "Neutron Dance" by The Pointer Sisters and "Stir It Up" by Patti LaBelle. I'm, of course, grateful for those. But my favorite of any of record of my songs is "September." It has gotten bigger every year since its release and I still hear it almost daily. It's also a song that seems to make everyone happy and want to get up and dance. It was just inducted into the Library of Congress Historic and Culturally Significant Recordings "because of its importance to the nation's recorded sound heritage."
Tell us about the year-long exhibit for Motown's 60th anniversary in the Motown Museum, and your part in Detroit's huge celebration in September, 2019?
I grew up in Detroit in the 1960's and spent almost every spare minute I had sitting out on the lawn in front of Motown. The walls were so thin you could hear the music leaking through them. Despite selling 60 million records, I, to this day have never learned how to play or read music. I just hear things in my head the way I did back on the Motown lawn. It's now come full circle as I tell that story in a special Motown 60 exhibit at the Museum that, in addition to all the Motown stars, features a few people who weren't actually a part of Motown. I'm very excited to be included with the likes of Oprah Winfrey and Nelson Mandela! The exhibit also includes a photo of me at 14, my prime age for worshiping at Motown, as well as the original sheets of paper we wrote "September" on. Just to think that one of my songs is being honored in the Motown Museum is the greatest reward this songwriter from Detroit could ever receive.
You did not come from money. Did you surprise your parents in your success, or in other ways?
My mom unfortunately passed away when I was only 15. I think my success surprised my father, but he never really told me as he never got over the fact that I didn't just get married and become a teacher. But he sure liked to tell his friends about all the hits I had written.
A guy that makes clothes for rock stars told us there's absolutely no correlation between fame and fortune and happiness. But you seem a genuinely upbeat person. Why is that?
There's only no correlation between fame, fortune, and happiness if you don't know yourself. You'll be miserable and unhappy with or without fame unless you are self-aware and adjust for happiness accordingly. If not, everything stays the same and you're still miserable as you haven't made any internal changes. I was quite clear from a very early age that I felt better when I was happy. So I always worked very hard in every area of my life to make decisions that I felt would lead to happiness as opposed to unhappiness. It takes a lot of work, a lot of self-confrontation. It's true that fame and fortune do not make for automatic happiness. But they sure help it along if you are a self- aware and evolved person.
Do you have a favorite song you've written?
Favorite record: "September." Favorite song: a lesser known one sung by Patti LaBelle, "Little Girls."
Was there ever a song that you were certain was going to be a big hit, but didn't?
There are tons of those. You have no control over a song once it gets into the hands of the producer and singer. Sometimes they become unrecognizable lifeforms. The worst thing someone can say to me is, "Do you want to hear what I did with your song?" No, because sometimes it changes so much I don't know why you just didn't write one yourself. I remember being very disappointed with a Jennifer Holiday record called "I Am Love." It was the follow-up to her giant hit, "And I'm Telling You I'm Not Going." It was a gorgeous ballad on the demo, but the producer turned it into this ballad that was constantly being invaded by jazz sections that didn't feel appropriate. It was still a hit, but not nearly as big as it could've been if the construction hadn't been messed with.
You've called your fundamental style "a blend of the highest tech and design and the lowest kitsch." What is your definition of kitsch, and its appeal?
I have been called the Queen Of Kitsch in almost everything written or filmed on me, from the New York Times on down. I was even in the dictionary.com definition of the word "kitsch" for years. I have one of the largest collections of it in the world. My definition of kitsch is different from the classic definition, which has more to do with things that are garish and over the top. I collect more Pop Culture Kitsch artifacts that are attempting to follow a very popular trend but are made so cheaply or with such a lack of understanding of the original object that they just completely spin off the rails. My house is stuffed with it, and I have an entire kitsch museum online at awmok.com.
What is your favorite thing to collect and why?
Pop culture African-American artifacts from the late 60's and early 70's. I used to work with James Brown and in the mid-1980's he told me that so few people were aware of any of this stuff because in those days there wasn't enough money to distribute African American-made products very far. He told me I had the makings of a museum, and so to honor the word of The Godfather, I never stopped collecting. My second favorite thing to collect is anything Disco. Artifacts and clothing, not records. I had my first hits then, it was an exceptionally joyous and celebratory era, and the music was melodic, happy, and is still popular today. And the number of people waiting to capitalize on it with really funny and offbeat products was enormous.
You have one-woman shows/parties around the US where you auction off some of your 1950's-1970's Soul, Kitsch, and Pop Culture artifacts. What towns are next?
I would perform anywhere where I thought there was a big enough audience. So far I've hit Los Angeles, Detroit, and New York. But I can throw a good party and put on a great show wherever. Next immediate one on the calendar is in Detroit where I've been asked to host the opening night party for Motown 60.
What do you dig most about Detroit/is something that a visitor must not miss when in town?
I absolutely love Detroit and never lost an ounce of love for it no matter what it was going through or how other people perceived it. It was and still is the most soulful city in the world. You can see the song and video, "The D," that I wrote, directed, produced, animated, art directed, i.e., did everything on, here. As for two things a visitor must not miss when in Detroit – the Motown Museum of course, where I'm happy to say I'm featured in special year-long exhibit for Motown 60, and Chef Greg's Soul 'N The Wall, a one-table restaurant I'm very much associated with and has the greatest food in the world. It's a true and authentic Detroit experience bridging the gap between the 1960's and current Detroit.
Would you mind telling us how you've given back to Detroit?
I was very involved in a fundraising drive with Pacifica Public Radio in 2008 where I threw parties to raise money to help restore hundreds of hours of previously never-before-heard historic audio tapes, featuring every major African American figure of the 20th Century. My high school, Mumford, became the first high school in the world to receive the full archives. I then worked with the principal and the history teacher to choose 20 students to DJ music to selected quotes from the archives on a special hour-long national radio program I did with them. I also raised money for Mumford doing concerts there featuring the music classes, choir, marching band, dance classes — essentially any student who had anything to do with the arts — performing to my songs. I also conducted them for another fundraiser along with the cast of my musical, The Color Purple, who were performing it at the Fox Theatre.
I also got very involved with fundraising for Mosaic Youth Theater of Detroit. And I spent five solid years working on nothing else but "The D," my Detroit opus featuring 5000 Detroiters singing and playing on it. The project was entirely self-funded as was a massive premiere party at the DIA open to the public. Right now I'm very involved with the Detroit Fine Arts Breakfast Club, a large group of primarily African-American artists who meet at a soul food restaurant every Monday night and show and speak about their works. Last summer in Los Angeles I hosted them at my house and sold every piece of art they brought. I'm doing it again in the spring, and continue to host the meetings whenever I'm back home.
What do you like most about throwing parties? Describe one or more of your interactive party games.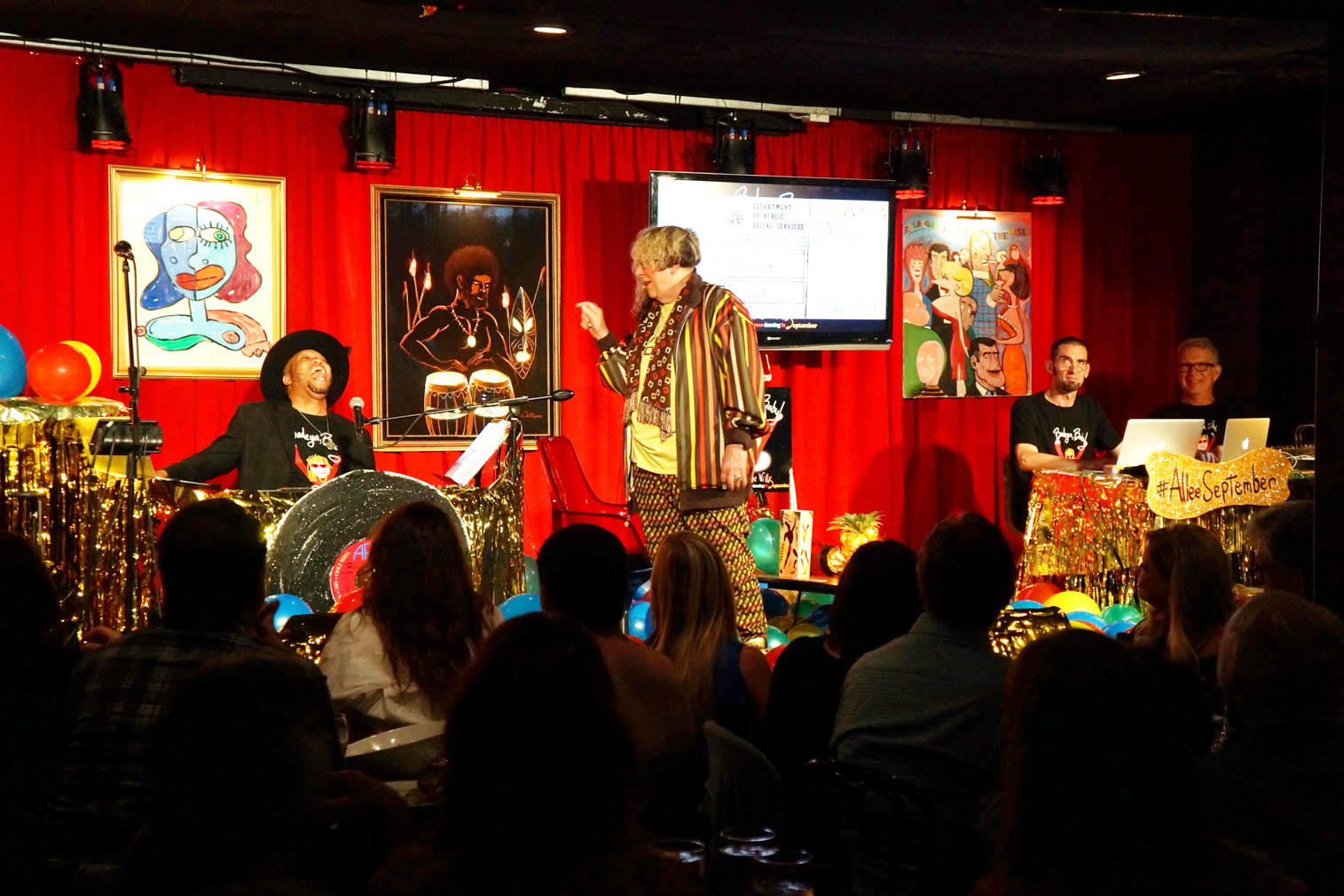 My favorite thing about throwing parties is that it's the one and only way I get to do everything I do in one place. I do everything from design the invitations to build sets, to DJ, to make up interactive games and everything involved in playing them, plan theme food, etc. Literally every single thing from the front curb to the end of the backyard is completely organic to the theme of the party. I love to create environments that bring out peoples' maximum participation and personalities. Oftentimes these involve people painting and writing. I'm a big believer in making life as comfortable as possible for folks if they're my guests. One party, I had a competition for people to tell their worst experience of the year. The more traumatic their story was, the more applause and glitter drops it got. All of a sudden, you're laughing about your troubles. We passed around money trees for everyone as prizes. People were confessing to losing jobs, losing contracts, relationships breaking up. It brought hundreds of people very close together and eradicated the shame of suffering in silence.
In 1997 you were the first artist to address the U.S. House of Representatives on artists' rights in cyberspace. Was that about copyright law? Intellectual property?
It was about the fact that songwriters weren't – and for the most part still aren't – getting paid for their work on digital platforms. I was trying to make Congress aware of the fact that music is not in the public domain and writers deserve to be paid for their work. This remains a problem to this day. When people ask me what I do, I say I'm in the public service industry. At a live show of mine a couple of years ago, I made the audience guess how much money I made from three months of "September" streaming online, 6,300,000 streams to be exact. Someone guessed a quarter of a million dollars. Someone else guessed $700. I knew that person was in the record industry because that was far closer to reality. But the actual answer was $32.88. The price for the closest answer was a pack of Ramen noodles, all you can really afford to eat from 6,300,000 plays of a song.
You've enjoyed careers in music and fine art, set design, film and video, technology; consulted for Intel, Microsoft, AOL and Disney; had the first wired, networked house in LA, and protoyped a social network, Willisville, before probably anyone else. You've got an ongoing daily videodiary. Do you ever sleep?
A) I would like to get double the sleep I get. I need a good 7 hours a night. I'm going every second between waking up and crashing. And I fall asleep and wake up thinking about everything, too. B) I started conceptualizing a social network in 1991, before there were even graphics or animation on the Internet. My CEO was Mark Cuban of Shark Tank and Dallas Mavericks fame, but we were over a decade too early for most people to even understand what the Internet was, let alone a social network. And yes, I've been videoing myself almost daily since 1978. Which was one of my earliest draws to the Internet because I saw it as a place to archive and preserve your life. My feeling about me is that most people don't know who I am. I want to leave behind a very through record so one day someone can put all the pieces together.
Is there any broad or specific advice you'd like to give to the young people?
Be who you are and not who you think other people want you to be. Make sure you are happy doing whatever you're doing. If not, and you've given it your all, quit and jump to something else that turns you on. Never sell out. Once you cross the line, there's no coming back.
What is the best advice you were given?
When we were writing the lyrics to "September," we were using a nonsensical phrase in the chorus, "ba-de-ya." I really thought it needed to be replaced by real words, but it felt so great with the nonsensical phrase. Maurice White taught me to never let the lyric get in the way of the groove. If the spirit is there, the beat, the melody, the arrangement, the vocal, everyone is going to get the point. You don't need to hit them on the head with a hammer of correct English or try to shove more syllables into a space that feels better with less.
What are your current goals?
The same as my goals have been since I began working. To combine everything I do into one artistic expression as opposed to write a song for this one, do a set for that one, throw a party over here, work on a musical over there. To me it's all one organic artistic thought and expression, so my goal is always to put them together. The closest I can get to this is my live performances so my goal is to perform much more in the future.
Who are your 5 favorite songwriters, dead or alive?
Holland-Dozier-Hooland
Burt Bacharah/Hal David
The Bee Gees
Ashford & Simpson
Carole King
How do you cool down after a particularly stressful convo or day?
I watch TV. Also a marijuana proponent.
Tell us something about yourself, such as a talent or interest, that most people don't know.
I'm such an open book I can't think of anything about me that most people don't know. I try and actively work anything I'm interested in into what I do. Maybe that I enjoy cleaning up when people eat over.
FameBooking thanks the one and only Allee Willis for taking the time to answer these questions! Be sure to keep up with Allee Willis via her website and facebook page.
---